Many leaders are frustrated because they can't see their people in person. Recently, I was asked, "Ryan, How do I know if my people are even working?" If you are thinking the same thing, now is a good time to level-up your leadership game and get some clarity.
In this case, the leader had done a less-than-average job of understanding and/or communicating what they want, what they're doing, determining if what they're doing is working, and what the plan is. There was a lack of job clarity.
The leadership tool to put into your toolkit is a Key Results Sheet (KRS). The KRS can be done as a DIY or it can be facilitated by an outside facilitator depending on your needs. The KRS starts with getting feedback from a brief questionnaire from 3-5 subject matter experts on the job which we call the Job360. A subject matter expert for the Job360 is defined as: someone who knows the job well and/or interacts with the job on a daily basis. It is valuable to get several opinions to confirm your gut or to provide you with new insights you hadn't thought about. Here are the seven basic questions for a Job360:
What is the purpose of this job?
What would happen if this job didn't exist?
What are the top three measurable results this job generates?
What are the top three things this job should spend it's time on?
What does this position do that no other position does within the organization?
Who are the internal/external customers for this job?
What are some of the daily rewards of this job?
You will hear several voices in your head when you answer the questions: The voice of how the job used to be performed, the voice of how the job is currently being performed, and the voice of the job telling you how it should be performed. Do you best to listen to that third voice: Let The Job Talk.
Once all Job360 answers are consolidated, the end result is the 1-pager Key Results Sheet.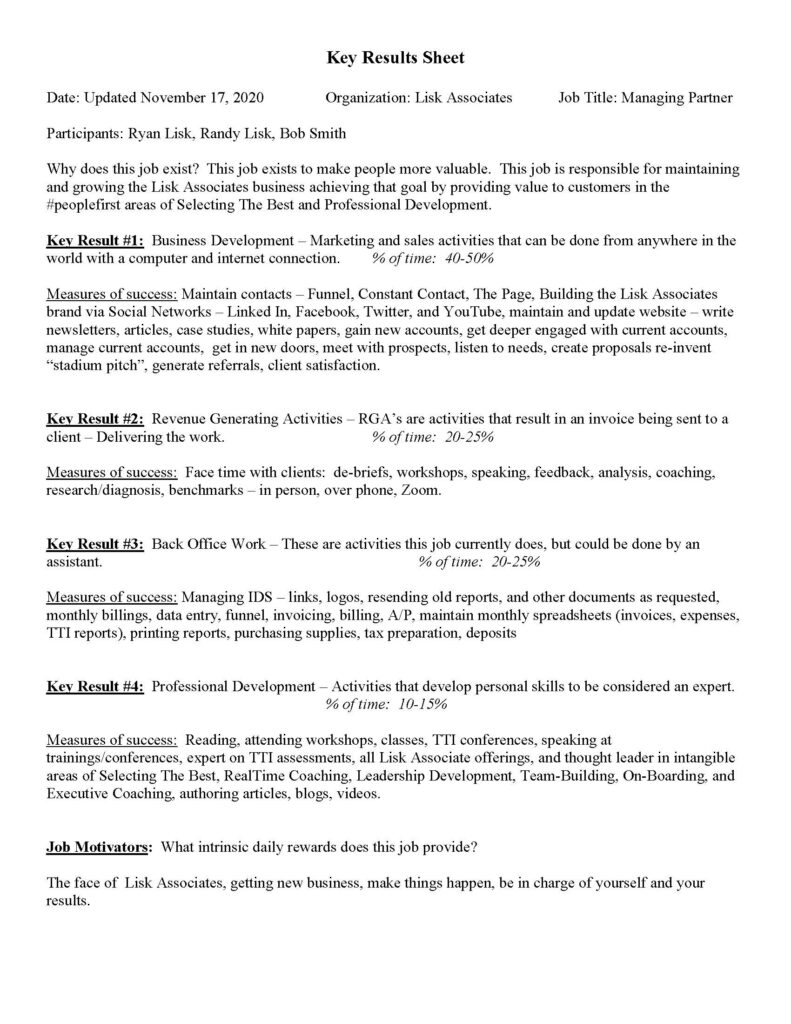 This KRS captures the purpose of the job, the key results, the time, measures of success, and the motivators or driving forces for this job. A solid KRS should capture at least 80% of the time, 80% of the measures of success, and 80% of the rewards of the job. The KRS will become an accountability partner to the person in the job.
With a good key results sheet, leaders have a better handle on what people are working on, what they are spending their time on, and what results they should be generating. Leaders won't need to have eyes on their people to know they are delivering key results.
If you have questions on the Job360 and key results sheet, feel free to reach out to me: [email protected]