Spoiler alert, you should go watch this 1:58 video before you read this article.
Don't Give Up, Don't Ever Give Up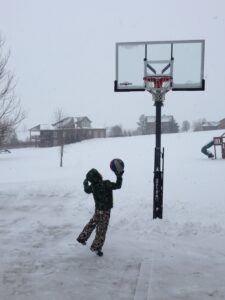 I hope you enjoyed watching that 11-year-old throw it down on the 19th try. I know I enjoyed it as that was my son, Griffin. Some of you have met Griffin when he makes an impromptu appearance on our ZOOM calls. He's competitive, determined, and smart; all of which are on display in this video.
Here are three lessons I learned with this video.
Lesson #1: Fail vs. Lesson Learned. At first, I was just going to trash the "fails". But as I watched, these weren't fails at all, he was learning. Look at attempt #4. What he was thinking with that huge run-up? I don't know, but what he quickly learned was our driveway has a slight upward slope and that wasn't going to work….only one attempt going uphill.
Lesson #2: Get Better. I knew he was going to be successful after attempt #10 when he said, "I messed up right there, that would have been the one." He was getting his steps right. He was improving his process (see lesson #1).
Lesson #3: Don't Give Up, Don't Ever Give Up. I'm not sure how many tries he would have stayed out there for, however many it was going to take. Watch attempt #18 and see how different he looks from the earlier attempts. And then on attempt #19 – SLAM DUNK! He got his steps right, got the slope right, got his explosion right and it all came together. Don't give up, don't ever give up.
What other lessons do you take from this video you could apply in your professional and personal life? I look forward to your thoughts and comments.